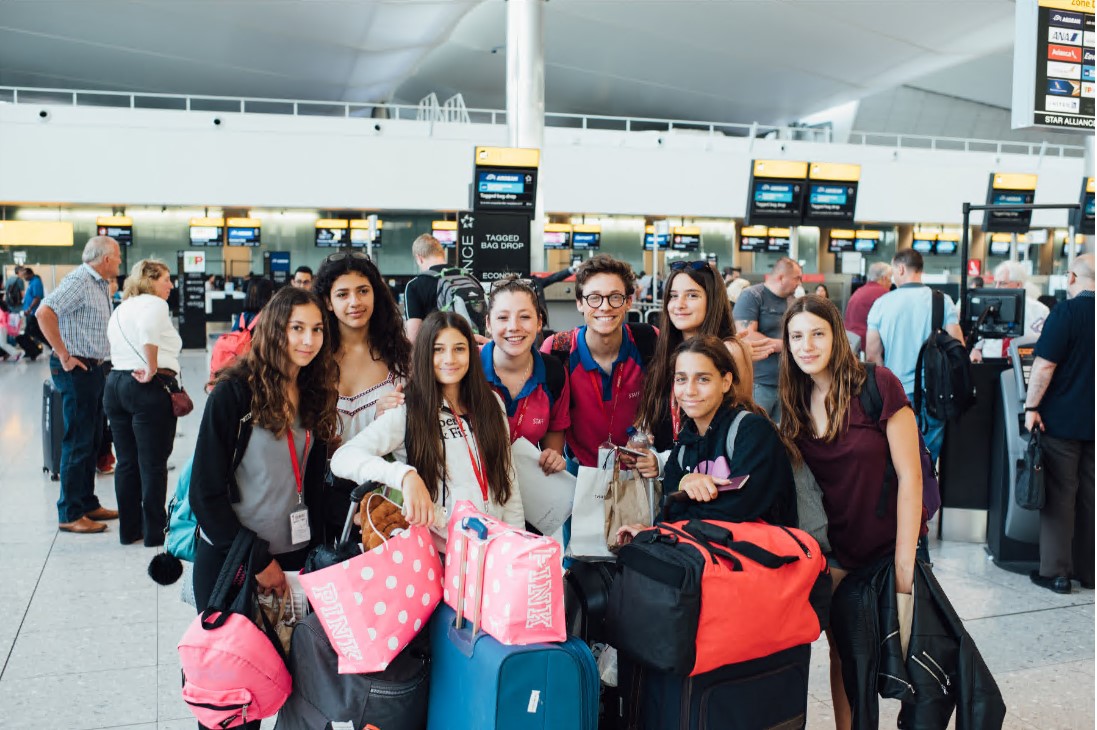 15 Mar

UK COVID Restrictions Update
Do students need Covid tests to visit the UK?
Does your child need a covid test to travel to the UK for summer school? We are delighted to share that it is now very easy for international visitors to the UK to arrive from anywhere in the world. Under 18's no longer require evidence of a Covid vaccine to travel to the UK. 
The UK was the first country in the world to authorise the use of two highly effective vaccines and the first European country to vaccinate 50% of its population. It has delivered the fastest booster programme in Europe.
Covid-19 cases have continued to decline thanks to this fast-paced booster vaccination programme. In England, the number of cases are far below the levels of previous waves, this has meant the UK has now released a policy called Living with Covid, so businesses are open as usual and students can expect a study abroad experience that is very close to normal (more details below). As of 11 February 2022 most of the UK's travel rules have also ended, so there is currently no requirement for anybody to quarantine on arrival.
But what if I want to bring my child to her/his summer course?
Adults do not need to take Covid tests or quarantine on arrival.
Red list passengers – There are no countries currently on the UK red list.
The UK has recently released their guidelines to living with Covid, details taken from the GOV.UK website.
Thanks to a hugely successful vaccination programme, the immunity built up in the population and our new medications, the UK is in the best position to learn how to live with Covid and end government and travel regulations.
As of February 2022:
The UK has removed domestic restrictions and encourages safer behaviours via public health advice, in common with longstanding ways of managing other infectious illnesses such as the flu
Protecting the vulnerable through pharmaceutical interventions and testing is the priority, in line with other viruses such as the common cold
We maintain resilience against future variants by ongoing surveillance, contingency planning and the ability to reintroduce initiatives such as mass vaccination and testing
Securing innovations and opportunities from the COVID-19 response, including investment in life sciences is critical to living with Covid
The British public continue to follow public health advice to reduce the chance of catching Covid and help protect vulnerable communities. We do this by letting fresh air in when indoors, wearing a face covering in enclosed spaces where you come into contact with people you don't normally meet, and washing hands properly for at least 20 seconds.
Domestic legal restrictions ended on 24 February as we treat Covid as other infectious diseases such as flu. This means:
The remaining domestic restrictions in England were removed.
The legal requirement to self-isolate ended.
Until 1 April, people who test positive are still advised to stay at home.
Adults and children who test positive stay at home and avoid contact with other people for at least five full days and then continue to follow the guidance until they have received two negative test results on consecutive days.
From April, the Government will update guidance setting out the ongoing steps that people with COVID-19 should take to be careful and considerate of others, similar to advice on other infectious diseases. This will align with testing changes.
Fully vaccinated adults and those aged under 18 who are close contacts are no longer advised to test daily for seven days and the legal requirement for close contacts who are not fully vaccinated to self-isolate will be removed.
Our testing programme has been a crucial part of our response to the virus. Over 2 billion lateral flow tests have been provided across the UK since 2020 ensuring people could stay safe and meet family and friends knowing they were free of the virus.
This information is accurate as of March 2022. Please visit the following website for the latest UK government guidance: https://www.gov.uk/government/news/prime-minister-sets-out-plan-for-living-with-covid
Covid safety at a Harrow School Short Courses
The Harrow School Short Courses team are employed by Harrow School year-round.
Covid safety is embedded into our day to day operations here at the site where your children will study this summer.
When off site we have carefully selected activities and excursions that have Covid safety procedures.
As a British Council accredited centre and members of English UK, we keep up to date with the latest industry standards to keep your children safe and enable smooth travel to the UK.
As an accredited English language centre in the UK we have to meet high standards of care. In practice this means we will conduct regular risk assessments and provide extra guidance for accommodation and social activities. Face coverings in classrooms are not currently a requirement in the UK, but will be optional to our students. If Government guidelines change, we may still ask students to wear one in communal areas such as corridors or the reception area.
The full details of our Covid safety policy could change between now and the summer and will be based on our current full time School policy. The final plans will be in place in 8 July 2022.
What happens if I am required to take a Covid test before departing the UK? And what if the test is positive?
The registrations team will provide guidance on what parents/guardians need to do ahead of a students departure and how we will assist with required Covid testing. If a student receives a positive Covid test result, they will self isolate at Harrow School until they test negative and are permitted to travel home.
The Covid Guarantee
Don't forget, when you book with Harrow School Short Courses you are entitled to our Covid guarantee which protects your booking should your course not be able to go ahead due to the Coronavirus pandemic. More details on this can be found in our terms and conditions.
Are you ready to book one of the UK's top rated English language summer camps? If so, you can find your perfect course here.